Latinx in eCommerce @ Walmart Labs
Come network, engage with recruiters, and hear diverse professionals in eCommerce showcase their work at Walmart Labs Sunnyvale!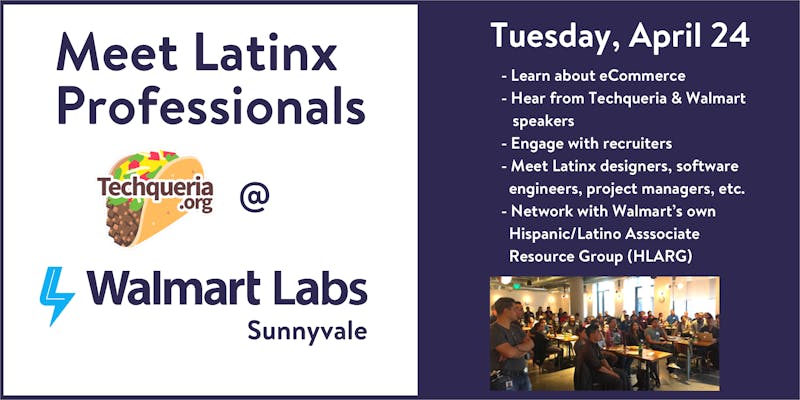 🗓️ Tuesday - April 24, 2018
📍 Bay Area
🏢 Walmart Labs
We're going to have speakers from different backgrounds talk to us about their experiences, their ideas for the future and their opinion of the eCommerce landscape. There will be Q&A sessions after each presentation, so come with a curious mind.
Before and after the presentations, there will be networking-style mixers, so be prepared to share business cards, resumes, LinkedIn profiles, portfolios, and your brightest personalities.
Learn more at https://www.eventbrite.com/e/latinx-in-ecommerce-walmart-labs-tickets-44786460509#
---
🌮

About Techqueria

Techqueria is a 501c3 nonprofit that empowers Latinx professionals in the tech industry by building networking and career advancement opportunities.

Our mission is to provide the Latinx professionals in the tech industry with the resources and support that they need to attain, thrive, and remain in a career within the technology industry.

We build Latinx-centered spaces that revolve around career advice, technical talks, mentorship, open jobs, networking events, speaking opportunities, and open-source and we work with both employee resource groups (ERGs) and tech companies to comprehensively affect change in the tech industry.

Coming from all walks of life, we believe that the diversity of our community is the most reliable asset we have.

Our space aims to be inclusive so we invite Latinx from the regions of the Caribbean, Haiti, and Brazil as well as those who identify as Afro-Latinx, Asian-Latinx or LGBTQIA.

The term Latinx is used instead of Latino or Latina because it is a gender-neutral and inclusive term.

Ultimately, Techqueria's goal is to become the most powerful and robust professional network of Latinx professionals in the tech industry across the world.
✨

Interested in becoming a sponsor?

Feel free to set up a partnership call and we can talk more about the different ways you can support the largest community of Latinx in Tech.
📬

Subscribe

Get new updates about Techqueria sent to your inbox by entering your email below!

Feel free to view the previous email campaigns to get a better idea of what is sent out.
💻

Contribute

If you'd like to make this page better or notice something off, feel free to open an issue on GitHub.

Any help is greatly appreciated.